What to pack for your Safari
Thank you for using our safari packing list to help you plan and pack for your safari. We are confident that by following this list you will make the most of your incredible safari experience.
If you are on a mobile device please scroll down this page to find your safari packing list.
For more information on this packing list and on what to pack for your safari please use the links below:
⊙ Safari packing list introduction >
⊙ How to use this safari packing list >
⊙ Read the top safari packing list tips from our experts >
⊙ View our handy safari preparation timeline >
⊙ Download our interactive safari packing list pdf here.
Safari packing list introduction
⊙ This is the ultimate safari packing list and we believe offers the best response to the frequently repeated question "What should I pack for my safari to Kenya, Tanzania, Rwanda, Uganda, Mozambique, Zambia, Namibia, Botswana, Zimbabwe, and South Africa".
⊙ This safari packing list has been a decade in the making and has been made by our safari packing list experts to ensure that you pack the correct safari clothing and gear for just about all types of safaris: game drive safaris, walking safaris, canoe or paddling safaris, horse safaris, gorilla safaris, and mountain trekking safaris. In a sentence: we are dedicated to ensuring that you have the most incredible time on safari and packing the right safari clothing, safari luggage, safari binoculars, and all the other important safari accessories is key to this.
⊙ As a general introduction to the safari experience, most safaris start early in the morning and will be on open safari vehicles with little protection from wind and rain. The rule of thumb is to dress in layers for all activities. For more in-depth information on what to pack for your safari - and why - we recommend that you read through our safari clothing advice, safari luggage advice, safari binocular advice, and our safari accessories advice pages.
Back to the top of this safari packing list page >
How to use this safari packing list
⊙ This packing list calculates the total number of items you will require for the number of men, women, and children you have indicated above. Simply divide by the number of men, women, and children should you wish to work out the number of items required on a per person basis or, of course, set the number to one for each in the form above.
⊙ Please also note that if your safari is longer than 12 days - and if you will have a laundry service available on your safari - that you should only take the recommended number of items for a 12-day safari or you will run out of space in your safari luggage.
⊙ To find out what our experts have to say about each recommended item, please simply click on "more info" and following the advice link. We have also included accessories you may need for add-on safari activities such as gorilla safaris, plus everything else you will need to remember to pack in your bag.
⊙ Please also read our guidelines for packing for a safari by visiting our expert safari packing advice pages too.
Back to the top of this safari packing list page >
Top safari packing advice from our safari experts
When packing for your safari, select safari clothing which offers some or all of the following six key travel garment technologies:
1. Safari clothing which is easy to pack, dries quickly, and wicks moisture away from the skin;
2. Safari clothing which offers a built-in insect defence. Insist on seeing proof that the built-in anti-insect treatment has been proven to work by asking to see the laboratory test results;
3. Safari clothing that offers protection from the sun. This will be shown as an SPF rating. 50+ is the highest rating available today;
4. Safari clothing that is lightweight, but which also has built-in ripstop for added strength;
5. As we all prefer to smell fresh, select safari clothing that uses an anti-microbial or anti-bacterial fabric. This also means that you will be able to wear the same safari clothing for longer and so pack less and travel lighter.
6. Add to the protective performance of the safari clothing which you take on safari by packing a wide-brimmed, packable safari hat, an effective sunscreen, and insect repellent which has been proven to work to spray onto your safari clothing, safari hat, and skin.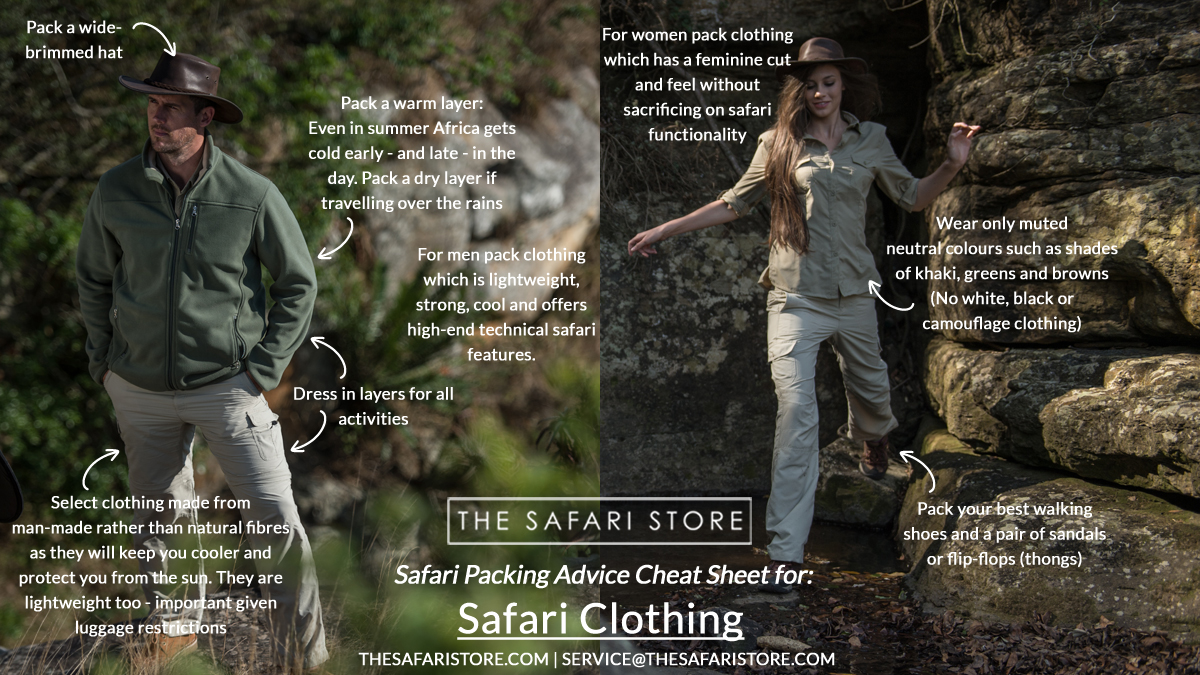 Use our safari clothing packing advice guide image above for quick, handy tips on what clothing to pack for your safari. Click on the image or click here to view a larger version of the image.
Back to the top of this safari packing list page >
Safari Packing List Pre-Departure Timeline
2 to 3 months before departure
⊙ Visa: If you require a visa and want to get it beforehand, make sure that you apply for the visa as soon as possible.
⊙ Passport: Check that your passport has sufficient pages as most African countries require two blank pages or more, and that your passport does not expire within 6 months. Apply for new passport if needs be.
⊙ Medication: Ensure that you visit your doctor and tell him where you are going. He will then advise you on malaria prophylactics, and other injections or medication that is necessary for your trip
8 Weeks Prior to Departure
⊙ Pay: Make sure that you have settled your balance due for your holiday with your tour operator.
⊙ Safari supplies: This is a good time to also contact The Safari Store for advice on what to pack, and to obtain your safari essentials (as above) in good time.
⊙ Re-confirm: If travelling independently, you must go through your itinerary, check that all flight times (including dates) coincide with your holiday dates, and contact all lodges, camps, hotels, transfer, private guides & car hire companies to re-confirm your holiday details
⊙ Pets, houses etc: Make sure you have made arrangements for your pets, booked a house sitter, and any other arrangements you may need to make for post, services and so forth.
4 Weeks Prior to Departure:
⊙ Departure-day planning: A smooth departure day takes 3/4 of the stress out of your holiday. Make sure that you arrange parking at the airport, start looking into taxis or trains, and book where necessary.
⊙ Travel money: Work out what you are going to do to pay for tips, purchases, extra tours etc while travelling.Arrange cash, credit & debit cards, travellers cheques accordingly (travellers cheques tend to be a pain to use in most parts of Africa - cash and credit cards are best! Take small denominations in cash in US Dollars - US$1, 5, 10 & 20 for tips and sundry purchases).
1 to 2 Weeks Prior to Departure
⊙ Pack: If you are organised, this is a good time to start packing for your trip. Ensure that you have all the correct safari clothing and luggage from The Safari Store. If you require any further supplies, contact The Safari Store or use the links at the top of this page to shop with us online. Also work out what you are taking as hand luggage, and what will go into the hold.
⊙ Check: Check again that you have your passport with visa, correct travel documentation, travel vouchers, confirmed itinerary, tickets, etc
⊙ Tell: Tell your bank & credit card provider that you are going away so they know to expect transactions from outside your home country; Let your mobile phone company know too, and set up your preferred setting for roaming; Remind friends and family that you are going away - passing on your itinerary, with hotel/lodge/camp contact details to people involved in managing your affairs while you are away is also a good idea.
⊙ Confirm: Taxis, train times, pet & house sitters. This may also be a good time to check on exchange rates for the country you are going to.

Departure Day
⊙ Nice & relaxed: With the proper preparation this should be as simple as picking up your luggage and travel documents, locking the front door, jumping into your taxi, or walking to the train station, checking in and taking off. Allowing yourself sufficient time to check in at the airport is vital in reducing the stress of travel. Arrive early, rather than late.