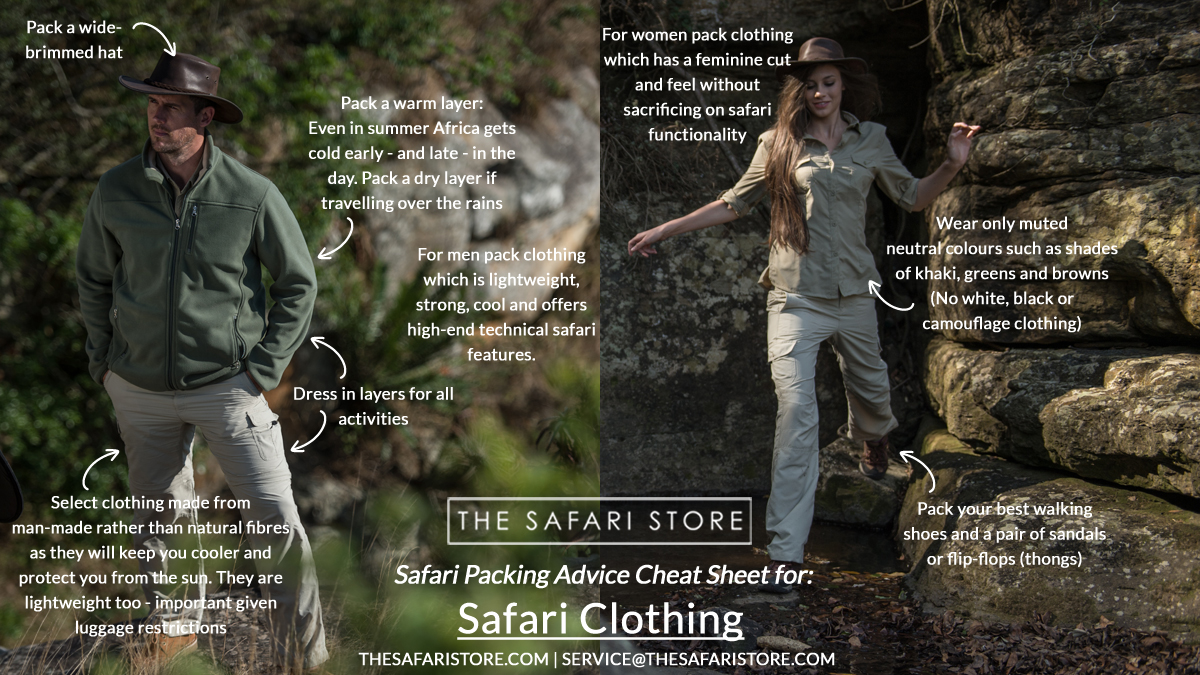 Use our safari clothing packing advice guide image above for quick, handy tips on what clothing to pack for your safari. Click on the image or click here to view a larger version of the image.
Back to the top of this safari packing list page >
Safari Packing List Pre-Departure Timeline
2 to 3 months before departure
⊙ Visa: If you require a visa and want to get it beforehand, make sure that you apply for the visa as soon as possible.
⊙ Passport: Check that your passport has sufficient pages as most African countries require two blank pages or more, and that your passport does not expire within 6 months. Apply for new passport if needs be.
⊙ Medication: Ensure that you visit your doctor and tell him where you are going. He will then advise you on malaria prophylactics, and other injections or medication that is necessary for your trip
8 Weeks Prior to Departure
⊙ Pay: Make sure that you have settled your balance due for your holiday with your tour operator.
⊙ Safari supplies: This is a good time to also contact The Safari Store for advice on what to pack, and to obtain your safari essentials (as above) in good time.
⊙ Re-confirm: If travelling independently, you must go through your itinerary, check that all flight times (including dates) coincide with your holiday dates, and contact all lodges, camps, hotels, transfer, private guides & car hire companies to re-confirm your holiday details
⊙ Pets, houses etc: Make sure you have made arrangements for your pets, booked a house sitter, and any other arrangements you may need to make for post, services and so forth.
4 Weeks Prior to Departure:
⊙ Departure-day planning: A smooth departure day takes 3/4 of the stress out of your holiday. Make sure that you arrange parking at the airport, start looking into taxis or trains, and book where necessary.
⊙ Travel money: Work out what you are going to do to pay for tips, purchases, extra tours etc while travelling.Arrange cash, credit & debit cards, travellers cheques accordingly (travellers cheques tend to be a pain to use in most parts of Africa - cash and credit cards are best! Take small denominations in cash in US Dollars - US$1, 5, 10 & 20 for tips and sundry purchases).
1 to 2 Weeks Prior to Departure
⊙ Pack: If you are organised, this is a good time to start packing for your trip. Ensure that you have all the correct safari clothing and luggage from The Safari Store. If you require any further supplies, contact The Safari Store or use the links at the top of this page to shop with us online. Also work out what you are taking as hand luggage, and what will go into the hold.
⊙ Check: Check again that you have your passport with visa, correct travel documentation, travel vouchers, confirmed itinerary, tickets, etc
⊙ Tell: Tell your bank & credit card provider that you are going away so they know to expect transactions from outside your home country; Let your mobile phone company know too, and set up your preferred setting for roaming; Remind friends and family that you are going away - passing on your itinerary, with hotel/lodge/camp contact details to people involved in managing your affairs while you are away is also a good idea.
⊙ Confirm: Taxis, train times, pet & house sitters. This may also be a good time to check on exchange rates for the country you are going to.

Departure Day
⊙ Nice & relaxed: With the proper preparation this should be as simple as picking up your luggage and travel documents, locking the front door, jumping into your taxi, or walking to the train station, checking in and taking off. Allowing yourself sufficient time to check in at the airport is vital in reducing the stress of travel. Arrive early, rather than late.

Back to the top of this safari packing list page >